SKIN CARE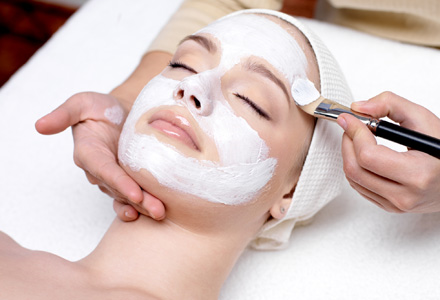 Facial treatment
Hydrating treatment (for all skin types)
Deep layer cleansing, exfoliate, steaming, relaxing massage face & neck, shoulder, extraction of black head. this treatment restores the skin to a balanced state. A hydrating soft mask is applied to soothe the skin .
Acne & Oily Skin Treatment
A combination of exfoliation, deep pore cleansing work to clarify and eliminate impurities. High frequency, applying acne controlling essence for deeper penetration, decongests & unclogs pores of all impurities, Acne treatment designed to clear skin congestion, control acne and revitalize fatigued, stressed and dull skin, leaving it luminous, moisturized and younger looking.
GM Collin ALGOMASK+ (for all skin types)
A hydrating clinical treatment to creating a cooling effect on the skin and to revitalize, moisturize and soothe. Its thermo-cooling effect on the skin makes it a remarkable revitalizing treatment particularly for reducing the visible appearance of redness.
GM Collin Collagen 90-II treatment
this exclusive, highly renowned intensely rejuvenating treatment dramatically minimizes deeper line & wrinkle, rejuvenates & tightens the skin resulting in the resurgence of a more youthful appearance. ideal for fatigues & mature skin, it improves the overall complexion by stimulating cell metabolism. it quenches the skin, leaving it optimally hydrated & radiant for immediate & long-lasting.
GM Collin SEA C SPA (for all skin types)
A powerful age-defying skin care designed to delay the visible signs of aging and energize the skin. Formulated with marine and vegetal ingredients (Vitamin C Concentrate, Algae Biomatrix Patches, and Thermal Organic Mud).
GM Collin Oxygenating care (for Oily or Acne-Prone skin)
This revolutionary treatment is designed to clear skin, revitalize fatigued, stressed and dull skin. Specifically recommended for oily, acne-prone skin.
A 5-step treatment, with a unique Oxygen Complex and Patented Anti-Microbial Peptidess, purifies and deeply hydrates to restore the skin's natural radiance and glow.
The skin becomes luminous, moisture-balanced and younger-looking.
All products are color-free, paraben-free, alcohol-free, and fragrance-free.
Plant Stem Cell Anti-Aging Facial
Reverse the signs of aging, remarkable wrinkle reduction with spectacular results.
Special Care Treatment
Radio Frequency Face Treatment
(Improves muscle tone, rejuvenates the skin, reduces the appearance of fine lines & wrinkles, & improves facial circulation, younger-looking).
Radio frequency remedies involve the use of electrical pulses that are utilized for the reduction in wrinkles by strengthening the skin. It is a method that transports heat energy to areas of the skin in order to fuel fresh growth of collagen. It has become a proven effective procedure that can reach the lowest levels of the skin without damaging it. It also is a process that enables a person to return to a regular daily routine promptly.
Diamond Peel
A diamond peel treatment is a mechanical exfoliation technique similar to microdermabrasion. This noninvasive, cosmetic procedure removes excess oil, dirt and dead cells on the surface of the skin to reveal the younger, brighter skin cells underneath. A diamond peel can improve the appearance of fine wrinkles and lines, even out a patchy complexion and reduce the occurrence of mild to moderate acne breakouts.
24K Golden Spoon Hydration Lifting Treatment
Condition:fine line, wrinkle,acne blemishes ,and uneven pigmentation.